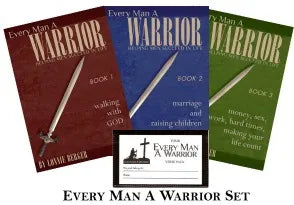 Every Man A Warrior Set (English)
Regular price
$33.00
Sale price
$30.00
/
Tax included.
In stock, ready to ship

Inventory on the way
All 3 Books in a bundle
Book 1: The first nine lessons of EVERY MAN A WARRIOR develop the essential skills of discipleship. These skills include: Having a Quiet Time, Meditating on Scripture, Prayer, and Application of the Word. The Book 1 Kit includes the EMAW Verse Pack with all the course verses. *All men need to go through Book 1. The skills learned are used and applied to the topics in the next three books.

Book 2: The original eight lessons give practical help and a biblical outlook on both Marriage and Raising Children. It comes with a special emphasis on raising teenagers. These lessons have profoundly impacted the lives of men wanting to be equipped to become better husbands and fathers. Lesson Nine has been added - "Sharing the Gospel with Your Children." Sharing the Gospel message is one of the most important aspects of being a Christian; especially if it teaches you how to lead one of your children to Christ.

Book 3: has ten lessons that bring Scriptural application to the issues of Money, Sex, Work, Going through Hard Times and Making Your Life Count. These issues will consume most of a man's life and energy and it is essential that he succeeds.